BEST ROULETTE WINNING SYSTEMS


MARTINGALE SYSTEM
This is one of the simplest systems and probably the #1 Roulette strategy used worldwide. The player only bets on black or red - or even / odds.
The logic behind this strategy is that all you have to do, is double the value of your stake every time you have a losing bet, until you win.
When you win you will take back
all the money you have wagered and the amount of the first bet you have lost. Betting on red or black pays 100% of the stake.
To recap, if you lose you have to bet the same stake again by doubling it, so if we bet € 1 and lose for 4 rounds and win the fifth, the betting pattern would be as follows:
Played 1 - Bet € 1 - Lose € 1
Played 2 - Bet € 2 - Lose € 2
Played 3 - Bet € 4 - Lose €4
Played 4 - Bet € 8 -
Win €16
As you can see, you have taken back all the money you have wagered (€15), plus €1 for a total of €16
Pros:
The system is very easy to understand and can give good results in the short period.
Cons:
If long interminable series of the same colour come out, the player is likely to lose all his available money until his first win comes, or even reach the permissible betting threshold set by each casino.
Suggestion: It is advisable to play the Martingale strategy starting with very low stakes, preferibly at online casinos that have available a roulette with very low table limits such as min. €0.10 euro cents, such as these: A - B - C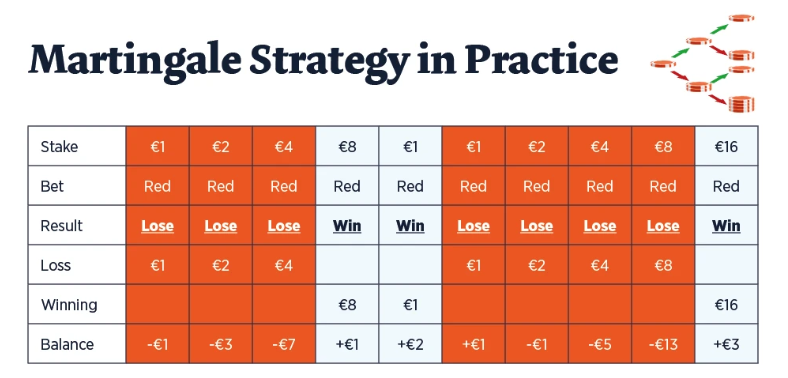 The publisher assumes no responsibility for any use other than educational, regarding the application of the system contained in this site, and does not in any way want to promote gambling addiction. We do not promise
and
DO NOT
guarante
e winnings to anyone and therefore no financial guarantees are given. If you decide to apply the information to play for real money, you remain solely responsible for the performance of your account. Reading what is published here implies acceptance of these terms.
Practical tips to keep in mind:
Gambling is forbidden to people under 18 years of age

Never gamble for money you can't afford to lose

Don't play just and always at the same online casino

Register only and always with your real data, without making mistakes, so as to avoid problems in collecting your winnings

If you can, try to take advantage of any welcome bonus offered to new customers. This way you will play with casino money first and keep yours safe

If you lose a day don't worry about wanting to recover everything right away. Stop! The next day will definitely be better