TIPS AND TRICKS
to win at roulette
The do's and don'ts when playing online roulette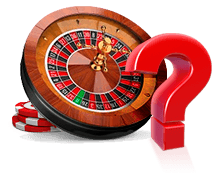 Online roulette is an exciting and potentially profitable game, but it does come with some risks. As with any gambling game, it is important for players to understand the rules and regulations before playing in order to maximize their chances of success. In this guide, we provide you the do's and don'ts when playing online roulette so you can make more informed decisions while having fun at the same time.
1. European Roulette
One of the most important things a player should pay attention to is to prefer European roulette to American roulette. The reason is that European roulette produces a profit of about
2.7%
for the casino as a mathematical advantage for the house, while American roulette produces about
5.3%
for the casino on the total played, so it is mathematically by far "more easy" for someone to make a profit playing European roulette. Therefore, the way forward in response to American roulette (which has two zeros) is automatically given by European roulette which has only one zero and thus an advantage for the casinos of half of what they make with American.
But now we are about to reveal a
secret that will put you in a position to fight almost on equal terms
with online casinos or croupiers at live tables and that is the following:
In addition to European roulette, it would be even better if the casino had a
French roulette
table and the so-called
"La Partage"
rule where the advantage for the casino is reduced to
1.35%
thus making the game even less disadvantageous for the player!!!
A top online casino offering with this type of roulette is the following:
2. Check out the roulette before playing
It is very important to check the behavior of the chosen roulette wheel before starting the game. We advise you to wait a few spins to see if a roulette wheel, for example, tends to stop more at odd or even numbers, high or low numbers and so on. Also, if you're playing at an online casino, a good tip would be to try playing for play money or very small stakes before actually getting in on the action.
3. Play off the table
Another strategy to follow is to prefer playing off the table, so not on numbers, but on red and black or even and odd. Sure, here you earn less, but you also risk less. Equally here, however, one must not rely heavily on the color that came out previously, because even if the same color, let's say red, has already come out 10 times in a row, one obviously thinks that the time has come for black, but instead it is not. Roulette is mechanical (or electronic if online) and certainly does not remember the color or previously issued numbers. Each ride is a story in itself and the past is to be forgotten immediately.
If we really enjoy playing with numbers, then perhaps we should study the
LUCKY 13
or
PIVOT
system found on the "Systems" page of our site. The risk with these strategies is quite calculated and has nothing to do with those fools who play huge sums on numbers at random or because they haven't come out for some time. Particularly with the Pivot system, if you want you can expand to play on two or three numbers at the same time, but no more.
4. The roulettes to avoid
Just as it happens in all sectors and with consumerism in general, even gambling is not exempt from this and it too undergoes constant updates especially in online igaming. Everyone wants to sell something new even if there is no real need on the part of the consumer. Just look at the staggering number of new slots churning out every day from online casino game software houses to get the idea. Even electronic roulette undergoes constant updates even if it is not remotely comparable to slots, and in recent years we have also seen several new electronic variants for this game such as:
Multiball, Roulette Royale, 3D Roulette, Astro Roulette, Age of the Gods Roulette, Lightning Roulettes,
etc.
Our advice is not to try to overdo it at all costs and not to dream of the big winnings promised by the sellers of the latest inventions... and to stick to the classic roulettes, which in our case are always the same: European / French and American.
Also avoid those roulette wheels that require a minimum of €3.00 as the minimum acceptable bet, as this makes any game strategy expensive and "mental management" difficult, in addition to the fact that with this minimum amount it will be possible to reach the limits of bet imposed by the table in case of doubles that may occur necessary for us during the game.
5. Roulette table limits
Before choosing the roulette to play on, it is equally important to check the minimum and maximum limits operating on the game we have chosen. We must therefore pay attention that by choosing, for example, a table with a minimum bet of €0.10 cents on a single number, it will not then be possible to expect to make a bet of €150, if necessary, as most probably the system will not accept our bet as achieved maximum limit. Almost always a roulette wheel with a high minimum bet consequently has a high maximum limit. It is therefore better to know in advance where we are playing. For those interested in playing with high limits and therefore as a "High Roller" with large financial resources, we recommend reading our
"HIGH STAKES"
section dedicated to the subject.
6. Play from a quiet place
An advantage of playing online casino roulette is in addition to saving money to physically go to a land-based casino, it is certainly that offered by the tranquility of our home, avoiding the noise and distractions that occur in a real land-based casino. Therefore, if you feel like stopping for 10-15 minutes, step away from the computer and come back whenever you want, if you feel relaxed. This also applies to live online casinos with live dealers; The croupier will have no complaints and you won't have to justify yourself to anyone. Also, if the live dealer is a woman and you are a man, be careful NOT to get distracted by his femininity and think
only
about your game!
7. Proper budget management
Obviously we will not miss the most important part for roulette bets, but also for all games of chance that require the use of real money. We are referring to proper budget management, which is a vital factor for every player. It would be absolutely wise before anyone sits down at a game table to have predetermined the amount to play, and to know when is the right time to fold, winning or losing.
8. Online casino bonuses: accept them or not?
As everyone knows by now, most online casinos offer new players a so-called "welcome bonus" to ensure that they can become their customers. The reason for all this is clearly due to the great competition that has arisen in the online gaming sector, the result of the incredible popularity that online casinos have known in recent decades. It must also be said that this type of inventiveness does not exist in land-based casinos.
Well, having done after the aforementioned premise we have to decide whether or not to accept the welcome bonus that will invariably be offered to us when registering on the site of our choice. Here some opinions are divided, but as far as we know we can say that the vast majority of players prefer to accept the bonuses offered by casinos at the time of their registration. There is nothing wrong with doing so as long as you have to read carefully the terms and conditions imposed by each operator in order to avoid ending up with misunderstandings between the parties. Generally speaking, if you accept a 100% bonus up to €1,000 and decide to take it all, all you have to do is deposit €1,000 yourself and the casino will add another thousand to your account so that we have a capital of €2,000 to start playing with! Obviously, the casino won't allow us to collect their one thousand euro bonus if we haven't first made a certain number of bets and spun the bonus amount several times, as required by every operator in the sector.